Episodes
Thursday Jul 11, 2019
Thursday Jul 11, 2019
Heyyy, welcome to the GNAPcast--your source of geekly entertainment!
Well, here we are, the last episode of Season 2... it's been a blast, filled with memorable moments, exciting trivia games, and more dumb jokes than an amateur stand-up club. Thank you to all you listeners out there who've come along with us for all this crazy stuff.
Okay, enough sad things! In honor of this being the season finale, David and Seth decided to test their friendship with a trivia game to see just how well they know each other. Let's just say... it doesn't end well. (Spoilers: both of them were really tired and anyway something just seems off.)
David's Fun Fact:
This episode has actually been in the works since Improvapalooza, but since it was so funny when we recorded it we decided to save it for the last episode of Season 2. I do a majority of the post-production for these episodes, and this is the hardest episode I've had to edit yet because I was laughing so hard. Hope you enjoy it as much as I did!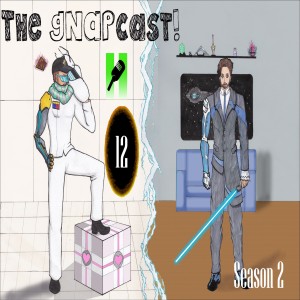 Thursday Apr 11, 2019
Thursday Apr 11, 2019
Heyyy, welcome to the GNAPcast--your source of geekly entertainment!
Welcome to a very special episode of the GNAPcast, one that was a long time in the planning--it's Improvapalooza, the episode where everything's made up and the points don't matter! 
In an episode inspired by their love of improv comedy and shows like Whose Line Is It, Anyway?, join Seth, David, and featuring returning guest Luke and new guest Lucas (aka SparkOtter) as they fumble their way through several improvised comedy sketches (some of which work surprisingly well in a non-visual medium).
Along the way we'll discover that it's really hard for an amnesiac to give a press conference, that Luke and Lucas could both be voice actors, and that every accent David does turns into Arnold Schwarzenegger pretending to be Scottish! 
5% Savvy is a musical project created by Seth, Luke, and Lucas with influences from Broadway to Irish folk music. You can find out more about us on Twitter, or by checking out our website. Stay Savvy!