Episodes
Thursday May 09, 2019
Thursday May 09, 2019
Heyyy, welcome to the GNAPcast--your source of geekly entertainment!
Continuing on with our topic of comic book movies, in this episode we'll be talking about hobbits! (Yes, it will make sense later.)
Join Seth and David this week as they discuss some favourite characters from the X-Men films! Along the way we'll learn that the timelines of these movies get really confusing really quickly, why Seth thinks small children are terrifying yet adorable (well, one small child in particular), and just what the heck halflings from Middle-Earth have to do with any of this!
Seth's Fun Fact:
The first of the "reboot" X-Men films, X-Men: First Class, debuted in 2011. I've watched it numerous times, but it took me UNTIL THE RECORDING OF THIS EPISODE to realize that the titular "first class" refers to the group (class) of mutants featured in the film, rather than referring to a higher caliber (class) of X-Men. Gonna turn in my geek card now...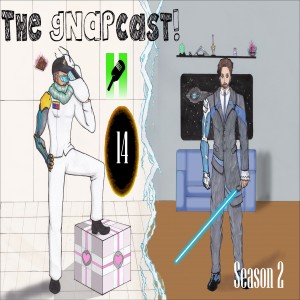 Thursday Apr 25, 2019
Thursday Apr 25, 2019
Heyyy, welcome to the GNAPcast--your source of geekly entertainment!
Welcome to a very philosophical, literary-heavy episode of the GNAPcast! Pull out your bubble pipes and settle down in that armchair in front of the fire, because today we're talking about one of the most prevalent story devices in pop culture--time travel. 
It's an idea that's been around for a few hundred years by now, meaning that time travel has infiltrated almost every single storytelling medium that exists--and we're gonna tackle most of them. Along the way, we'll also talk about some amusing (and confusing) paradoxes, learn why filial relationships can get really complicated when time travel is involved, and that Seth seems to be missing something... quite a few somethings, actually. 
Seth's Fun Fact: 
I had several other paradoxes to talk about that we didn't quite have time for in the episode, but if you want a fun mental exercise, google the "bootstrap paradox" and try to puzzle that one out. It's quite fascinating! *blows bubbles from bubble pipe*
Thursday Jul 19, 2018
Thursday Jul 19, 2018
Heyyy, welcome to the GNAPcast! Here we go again--it's time once again to debate our way through the Internet throug the predictably wacky Would You Rather! 
Join David, Seth, and our new friend Anna as we answer those questions absolutely no one is asking, discovering new things about each other in the process! After freeing our inner carpenter, we find out that Anna enjoys drinking shots of maple syrup, that in addition to being a monkey, Seth apparently also really, really wants superpowers; and that David thinks responsibility is the worst superpower anyone can have. Hey, wait a minute... 
This episode features Anna, a theater afficionado from Iowa who doesn't want to be experimented on by the government and likes walking...even at the expense of an arm. 
You can play along at home, too! Ask yourself only the most important question: Would You Rather?